Education has always been an important part of life. Without education, you cannot succeed. Especially in today's era where education is the main catalyst to gain any knowledge and to survive in the environment.
Getting a decent education is not about getting documents that confirm your graduation or the place you have graduated from, say, Stanford or Yale universities. Instead, it is about gaining real knowledge and professional skills that will help you your entire lifetime.
Plus, during this age of the pandemic, where getting hands-on education is only available through digital methods, mobile educational apps have become crucial.
Furthermore, with an exponential increase in technology and mobile app development, it is only logical that we streamline our educational requirements and make learning more efficient and interactive.
What are educational applications?
An educational app is simply an application that is designed to provide learning solutions remotely. Educational apps provide the chance of e-learning and e-teaching to both teachers and students.
Educational apps can be used by any individual of any discipline. From toddlers to college graduates, educational apps can provide learning solutions for all age groups and all disciplines.
Especially, during this era of the pandemic, where all the population is forced to stay indoors and the institutions are shut, learning from these applications has become a necessity and people are realizing the benefits of educational applications.
If we talk about numbers, educational apps are becoming one of the fastest-growing mobile applications in the market. Educational apps are being downloaded at a rate of 8.5% which is pretty impressive.
Moreover, according to Statista, the growth of the educational and e-learning market has been growing exponentially and it has been predicted to touch the 240 million mark next year in 2022. See the figure below.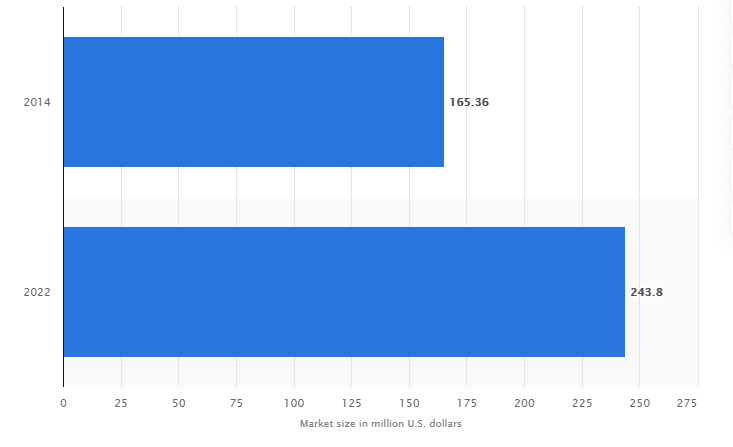 Benefits of educational and e-learning
There are a lot of advantages and merits that e-learning and educational apps offer to their users. Educational apps are the next step in the learning sector and are revolutionizing the game at large. Here are some of the merits that educational apps and e-learning offer to people that can go a long way.
Remote learning
The best advantage of e-learning and educational apps is that you can get access to the information and attend the classes from anywhere in the world. It allows the user to get knowledge remotely, thus saving the time of traveling and focusing more on the study matter.
This merit has been immensely helpful during the Covid-19 pandemic. It allowed the people to gain additional skills and knowledge when everyone was isolated. It also helped the students in continuing their studies without going to schools or educational institutions.
Available anytime
Another advantage of educational and e-learning apps is the 24×7 availability of information. Schools and colleges have classes that create time restraints for study. The student can only study in a particular time about a particular subject in schools and academic institutions. However, with the help of education apps, students can study at any time about any subject without any time limitations.
Enables systematic learning
One of the most beneficial parts of educational apps is that they provide both smart and systematic learning. The curriculum on the application is specially designed to offer a more comprehensive way of learning and also elevates the desire for learning within the student.
Types of educational applications
Educational apps for children
Kid-focused and preschool apps are in the hype right now, parents want the best start for their children, and providing them with good and informative education with the help of these apps is becoming the first choice for parents. Moreover, by keeping kids engaged and entertained, parents can get a chance to decompress and relax.
Language focused educational apps
Since the world is becoming a more connected place, people now wish to learn new languages for easier traveling, exploring fresh opportunities, or just to understand the culture of the region.
Educational apps focusing on language learning can be of big help in these circumstances. It provides easy and quick methods for learning different languages and provides features like private sessions, classes, and practice tests.
Educational apps for special courses
These types of educational apps are generally preferred by college students and employees who are seeking to upgrade their skills by learning new tools and completing special courses.
How to develop educational applications
To develop a well-coded educational app, you first need to have good well-versed expertise in coding and developing languages. However, most people do not possess these skills. Hence it is best to outsource this chore to app development companies. These companies are specially designed and well-equipped to provide world-class applications.
However, these applications can cost a fortune, so it is preferred to go for a company that provides good service on an affordable budget. Appther Technologies is one of the best and affordable mobile app development companies that can handle all your app solutions
Frequently Answered Questions (FAQs)
How do educational apps help teachers?
Educational and e-learning applications include methods of easy documentation, allows innovative and easy teaching opportunities, and improves the communication between parents and teachers.
What features should an educational app have?
Any educational application should contain some specific features and functions which will be crucial for the operation and will act as a foundation for the application. Some of these features are listed below.
Interactive UI/UX design
Live sessions and recorded classes
Push notifications
Feedback and comment section for doubts
Do educational apps provide improved learning?
By providing sufficient resources for learning and with features like 24×7 availability and remote learning, it is well stated that e-learning and educational apps provide better learning opportunities and results in better education.
For your educational app-related queries contact the world's 1st mobile app development agency with specialized teams for different industry niches:
Appther contact details;
Mob. +91 9911432288 (Whatsapp)
Email: info@appther.com
[Extra Read: Top Online Dating App Development Company | USA | India | Canada ]