We all witnessed the boom of dating apps like Tinder and Bumble. From meeting people in a coffee house to chatting with a matched profile, technology has changed the way we talk, communicate, and even our methods to find a date.
Online dating apps or even online dating, in general, were not welcomed by the public before as they looked creepy and tacky. But now, what was being used by people to find a hookup, is being used to find their forever love. All with the advancement of technology and more precise algorithms.
So let us jump in and find out how dating apps became the new standard to finding a perfect date, fun companion, or just a "friend".
Dating apps: statistics and their future
Now let's talk about some numbers, rise of dating apps has been something to study about. Previously, These apps and online matchmaking websites were not appreciated by the public as it seemed kind of an odd concept at that time. However, with the advancement of technology and the boom in the mobile application sector, that misconception quickly changed.
According to Statista, the number of online dating users has been increased from 28.9 million in 2017 to 49 million in 2021. Furthermore, dating apps are also expected to grow to 53.3 million in the year 2024.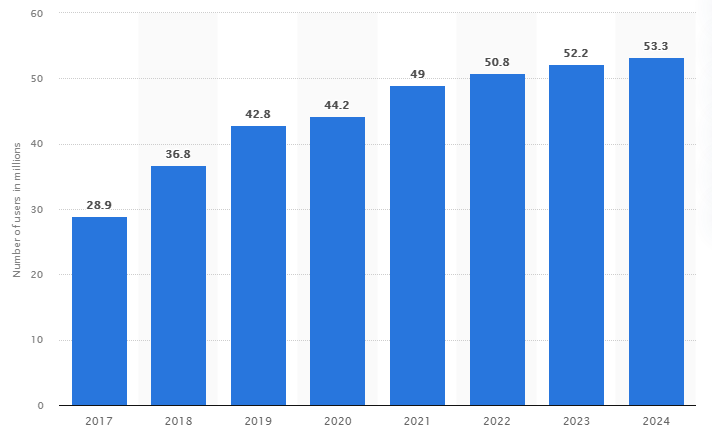 How do dating apps make money?
There are certain ways that a dating application can make good money. Here are some methods below.
Offering premium services
Providing the chance of some exclusive features to the customers is the key component in any dating application. Advanced features like unlimited likes/swipes, boosting profiles, and access to missed profiles are the few benefits that the user can get access to if he/she subscribes to the premium version of the dating application.
Purchasing these features directly results in an increase in revenue and profits of the organization.
In-app purchases
In-app purchases refer to specific features that the application offers to users to purchase and use. These specific features include access to Gifs, emojis, and other graphic options that helps in conversations. In-app purchases also include many one-time or limited paid features that help in increasing the engagement of the user's profile.
These features include one-time profile boosing or additional likes/swipes for the user. These purchases also offer virtual gifts and present that users can send to each other with a one-time purchase.
Besides one-time purchases, dating applications also generate revenue by charging a one-time fee to download the application and access its services.
Advertisements
One of the best ways to increase revenue for a dating app or any other app for that matter is through ads and brand sponsorship deals. Numerous users all across the globe are spending a majority of their time on dating applications which is why several organizations are targeting this audience base to promote their brand and products. Hence, showing advertisements can be a great chance to earn revenue from such ads.
Cost and time required to make a dating app?
Dating app development is not cheap or budget-friendly. Developing a basic dating application can cost hundreds of thousands of dollars and can take up to 3 to 6 months for computation.
Curating your own dating application is not an easy task. Most people will try to hire their own in-house developing team for application development. However, it might not be the most sensible option as it requires a ton of financial and other resources.
The most effective method is to outsource the job to an application development company that is well equipped to deal with such challenges.
What kind of team is required for dating app development?
For developing a smooth and sleek dating application, a team of skilled workforce is required. A good developing team can immensely improve the quality of the application and can provide a good quality application in less time.
Here are some of the personnel that you will require to create a dating application.
Project Manager
UI/UX Designer
Quality Assurance Lead
Front-end and Back-end Developers
Android and IOS developers
Our experience in dating app development
Appther has a diversified portfolio of different applications that we have developed. We are well versed in developing dating applications that can offer paradigm-shifting results. Our dating app Browser is becoming a fast-growing application with new users joining every day. If you also wish to get your own dating application to enter the market, Appther Technologies is the company for you.
Frequently answered questions (FAQs)
How to make a dating app successful?
The best way to make your dating app, success is by developing an advanced algorithm that connects the user with the same interest and same passions. This optimal matchmaking can hugely increase the chances of your app becoming a big success in the market.
Who is the ideal audience in dating apps?
The best way to make your app successful is to find out the niche audience that you wish to promote your application. Generally, it is good to narrow down the audience on the basis of location, interest, and sometimes religious beliefs. However, keep in mind that the ideal audience area should neither be too wide or too narrow.
What are the features that a dating application should have?
Since dating applications have complex functionality, these application requires some essential features that are necessary to provide best matches and a satisfactory experience to the user. Some of these essential features are listed below.
Integration with social media platforms
Location-based searching
Optimal matching algorithm
Personalized profile settings
Push notifications
Access to private chats and video calling feature
So if you want to know anything about dating app development then feel free to get a free consultation from the market leader in the dating app development space – Appther, anytime:
Mob. +91 9911432288 (Whatsapp)
Email: info@appther.com
[Also Read: Best Healthcare & Medical App Development Company | USA | Canada | India]