Mobile application testing
Just Imagine this. After toiling for months and days on end you curated a pleasing mobile app with exemplary performance. But, just when you were preparing to celebrate this feat by publishing your app on a platform, it got rejected.
What then? 
Of course, there is use in crying over the spilled milk. Since prevention is better than cure, Appther abides by this rule when it comes to testing all the mobile apps we develop.
So, what is the strategy or rather mobile app testing checklist that Appther swears by? Strategies that make all our mobility solutions robust and the best of their kind?
Agile Mobile App Testing Strategies That Trusted Companies Like Appther Follow
App testing is as crucial as it comes. Once you make an impeccable mobile app, there is little to no room for issues and bugs. So, let's review the strategies Appther follows for mobile app testing.
Develop  test cases lead by cross-team QA.
Testing should not be limited to organizational silos. The more diverse teams you will incorporate in the app testing process, the greater are the chances of the app's success. Thus, well-defined test cases developed by the product team can help all the others in this task.
So, we create test cases for every new feature. This way, all the teams at Appther can review it and ensure every flow is understandable by all. In which case, you can curate a template to make everything streamlined.
Pave the way for UI/UX Testing
QA testers are responsible for UI/UX testing of the mobile app. This is a cross-functional activity which is deemed crucial for astounding app performance. 
While development, it is imperative that the design might differ from the intended one. It is nothing to worry about since these changes can happen in this testing stage.
One way to go about it is to refer to the original UI design to ensure the app renders the highest UX. 
Thus, product owners, product designers, user experience creators, and QA testers at Appther work in unison to catch these alterations and fix them according to the plan.  
Manual testing , Functional testing
Functional testing is known to be easy if one uses manual testing. This is where all the Appther's QA team and developers collaborate to ensure every unit is working as it is supposed to do.
The unit can be a module, an app feature, or a class. We test everything individually. This all ensures that the app is working smoothly without any hiccups and glitches. There are a plethora of tools for mobile app testing that we use to facilitate the process.
Following Automated testing
As the name suggests, this does not require the involvement of the QA team to test each unit and feature of the mobile app. This is so much better than manual testing where the teams have to check every feature individually.
The manual process may work for some companies who can afford to invest a considerable amount of time in the testing process. 
But it is not the most preferred way by many app development companies needing to shorten the time-to-market for greater impact. It is cost and time-effective, and not to mention less prone to mistakes. There are many mobile app testing automation tools to take help from.
Choosing the OS for testing.
Since all the operating systems are in a habit of releasing new updates for the software, multiple versions of the same OS exist simultaneously. This makes it a little tricky for QA testers to test the applications across the various OS. 
Statistics by Statista show that as of Jan 2020, there are 11 versions of Android OS in use. Meaning, one has to test its Android app for all these versions. 
It is advised to go with the quality instead of quantity and identify your minimum value audience. You might not face such a problem when it comes to iOS.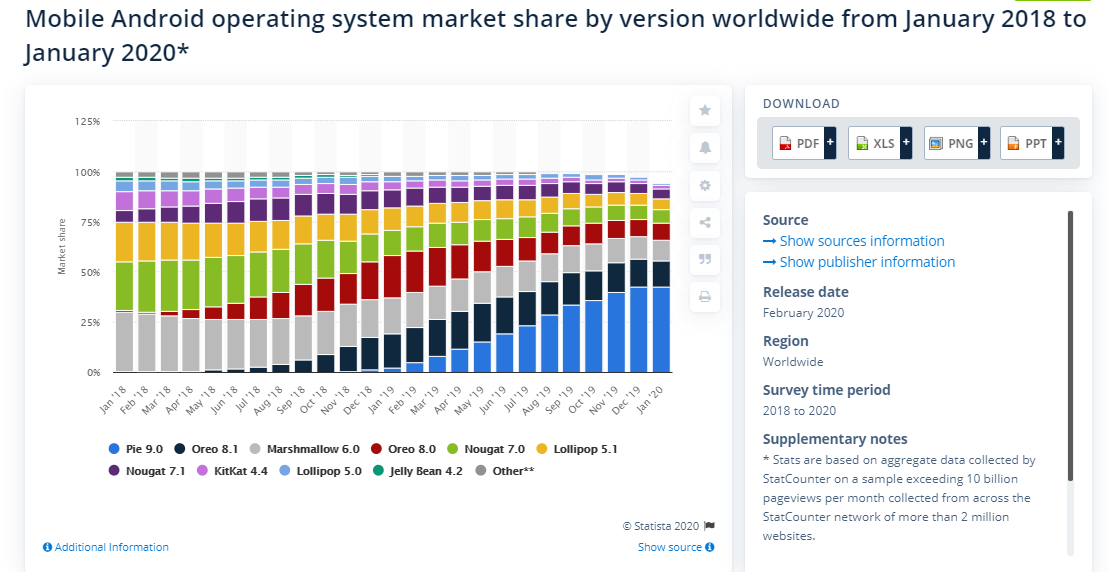 Regression testing
Once you make your app, it will not require adding new functionalities and features into it. This is where QA developers are required to perform regression testing. 
A single line of code can cause unforeseen changes and may lead to further issues. So, it becomes imperative to make the app immune to such unfortunate incidents. 
Testing your app's every new and old feature with this strategy will ensure the flow of the app does not hamper due to minor tweaks in the code. Organizations use a combination of manual and automated testing for this task.
Testing for fragmentation
This is one of the crucial stages of every mobile app testing strategy. First, QA testers make sure the app is working well by testing it on emulators. Then, they test the mobile app on real devices with fragmentation in all its glory. 
Testers ensure that features like various gestures are working as intended and other features are functioning well as they are supposed to.
User Acceptance testing (UAT)
Since there are no actual real users, the testing team can nominate a few users personally to try and test the app for its features. This helps them to get a little bit closer to feedback similar to the actual users and make improvements in the mobile app as necessary.
That was all. We hope we explained all your queries related to end-to-end native mobile app testing strategies employed by Appther to produce distinguished apps. 
Sure there are many challenges in the mobile app testing procedure, but with the help of the right tools and professionals, it becomes possible. Contact Us
Why Businesses Should Keep Updating Their Mobile App Regularly ?