Outsourcing is a practice introduced decades ago and is more than relevant in today's time still. Talking specifically about mobile application development outsourcing, it is deemed as one of the most effective ways for a business to get an app.
In retrospect, even during the Great Recession of 2008, companies like Apple and IBM continued to outsource their development needs. Fast forward to 2020, most of the industry giants still prefer to outsource.
Compared to its counterpart, in-house smartphone application development is not everyone's cup of tea. Although it may seem enticing to compile your team for such a major project, it is not in the best interest of startups. 
We'll get into the details right about now.
Challenges faced in hiring in-house teams
Hiring your own in house team can be a headache for startup organizations. Apart from having the inevitable financial challenges, there are a lot of other problems that one faces with in-house development.
Scarcity of Hiring resources
Small companies and startups suffer from the scarcity of resources. That also includes the ability to hire a good and effective team. Furthermore, startup companies do not have the proper knowledge and time to devote to the hiring process. This can lead to a poorly constructed team and eventually hamper the effectiveness of the project.
Lack of recognition
More often than not, people belonging from the top cream of the talent look for opportunities with bigshot companies, thus leaving startups with the crumbs. This is probably why startups go for hiring fresh talent for the majority of the team instead of experienced teams.
Compensation
Unlike outsourcing, instead of paying per project, companies have to pay on a per month basis if they go for an in-house team for Smartphone application development. Depending on the geographical area, the compensation costs get competitive and out of the budget of SMEs.
There are more reasons to not go with the in-house development team, but we rather discuss the positives of outsourcing Android and iOS development to give you a clearer picture.
Why should small entrepreneurs outsource mobile app development?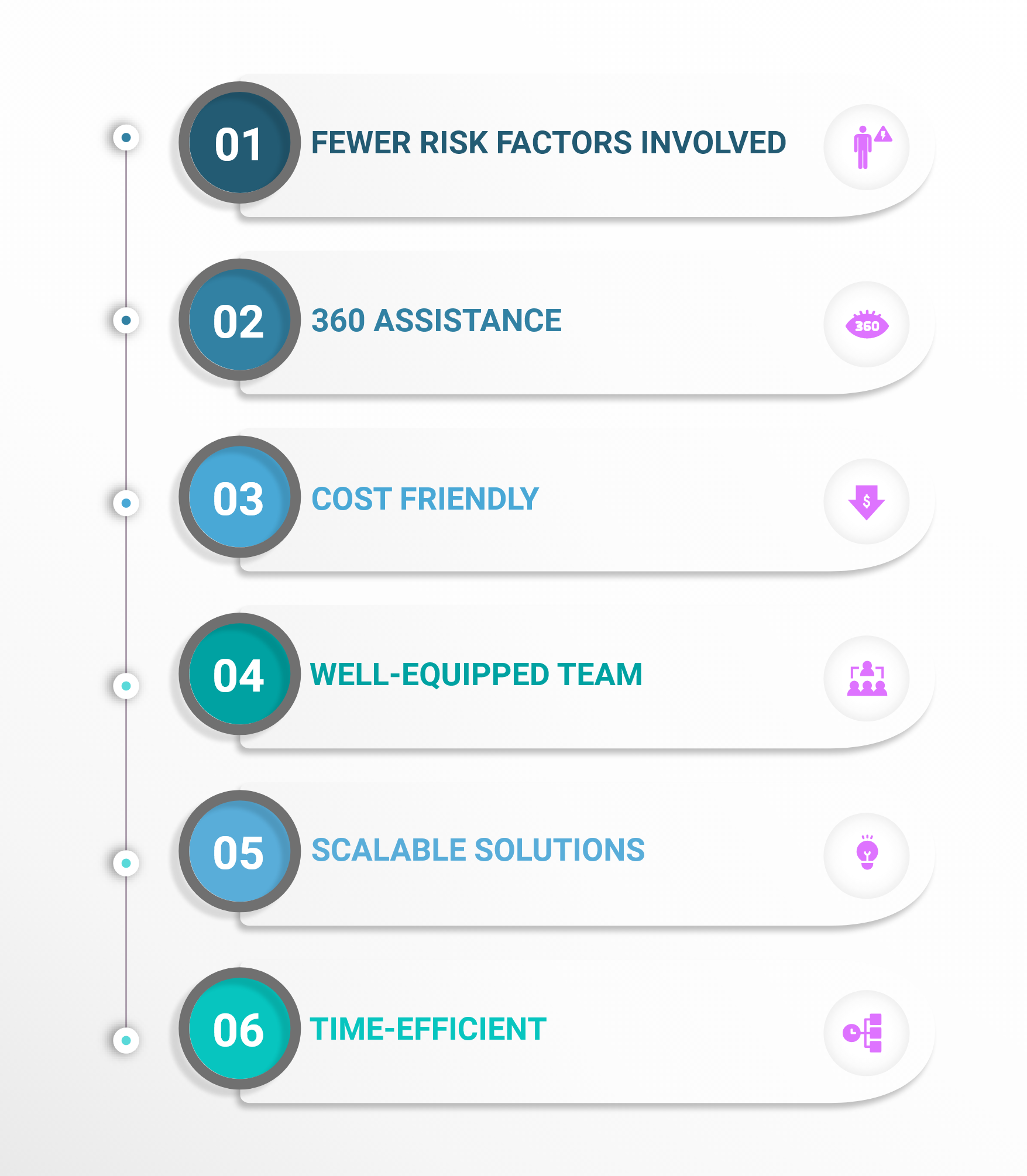 Fewer risk factors involved
Any kind of development comes with its challenges and unforeseen, unanticipated risks. For the SMEs which are barely hanging in the cut-throat competition, any mistake in the development process can turn into a fatal blow. 
Therefore, outsourcing for cross-platform mobile development is a benefit for startups. The selected mobile application development companies take care of all the complications one may face on the development end, relieving startups from suffering the loss. All they need is to state the budget, their requirements, and the deadline.
These companies are seasoned in dealing with risk factors such as security and protocol breaches, choosing unsuitable development partners and tools, unsustainable user growth, app store rejection, maintenance, updates, and more.
360 assistance
The fact that these companies provide specific development services allows them to take care of every little process that leads up to a great mobility solution. 
They have a fool-proof, agile process containing numerous necessary steps that they follow. Not just this, the services extend beyond just the development phase. They provide post-development services for the app, training sessions to make you familiar with every feature of the app.
The process that they abide by, more or less, looks something like this  – Ideation -> Research and Analysis -> Prototype/Wireframing -> Q/A testing -> Post-development services.
Cost friendly than the alternative
Market research and analysis, setting up a process (with hit and trial method of course), developing, designing, testing, etc. definitely incur huge costs. Sometimes, it can surpass the budget a small startup may have thought to be enough.
This can create a huge mess for SMEs since they cannot just release capital more than planned, leaving them stranded and money-less. To avoid such a situation, many startups around the world opt for outsourcing.
The outsource app development company of choice would know how to properly allocate resources to create a mobile app under the budget avoiding extra-costs for the startup. It is evidently a better way for developing an app for your business than to hire an in-house team for a one-time requirement.
Well-equipped team of professionals
As mentioned above, it is a bit challenging for startups to hire an experienced and seasoned team of developers, designers, business analysts, etc. to produce an app that is in every sense an ideal match for the requirements.
SMEs cannot just take a chance with anyone to develop a product in which they will be investing every single penny they can afford. Thus, this calls for a team of highly professional experts who know what they are doing every step of the way.
The teams are trained in working with the newest technologies, cross-training assignments, developing and deploying, and model behavior.
Scalable solutions and team
One of the major fallout of hiring an in-house development team is that whether you have the requirement of not, you have to pay them regardless or find some to justify the costs you are incurring for hiring them. 
In-house team hiring is not the most scalable option for startups. Outsourcing on the other hand offers small businesses the option to choose a team based on their requirement and budget. If they need to expand their team, they can do so for each project. Moreover, these experts with the new-gen technologies will create a product which is highly scalable as well.
Time-efficient on the development front
When a new team is put together, it takes a few trials and errors to get things right. The newly created process will be susceptible to failures of course. 
Moreover, your in-house team might not necessarily have access to all the paid resources your project might require out of the blue or know how to work with them. 
All these things combined can surely hamper the time-to-market of your mobile app and take longer. Thus, outsourcing a professional team will only cut down on the mistakes and overtime development time.
Conclusion
To tie it up in a neat bow, outsource mobile app development is not only time-efficient but takes care of many problems and bottlenecks of app development. 
One more thing we would like to add is that the cost of mobile app development varies as we move from western (being an expensive one) to eastern (more affordable) countries.