Clubhouse Business Model
Since the application clubhouse came into existence in 2020, it has taken the
internet by storm and became one of the fastest emerging social media platforms. Now, the valuation of the application has reached a record high of $4 billion. The growth of this application has been phenomenal and is already in the big leagues with apps like Facebook, Whatsapp, Twitter.
However, unlike the other social media platforms, Clubhouse has managed to create a USP by being an audio-based social platform that the users can use anytime and anywhere.
In this article, we will study extensively how this application has delivered such chart-busting performance in the midst of the pandemic and what the future of Clubhouse looks like.
What is the Clubhouse app?
The clubhouse is an audio-based social media application designed to connect people only through voice chats. It is a bit different from other social media handles as it does not allow posting pictures and videos. Users can only connect via audio with each other which somehow allows the users to interact in the most basic sense (via talking).
First launched in 2020, the clubhouse was the brainchild of Paul Davison and Rohan Seth curated to connect people during the covid 19 pandemics. The application was first released on the IOS platform as an invite-only application and was later introduced on Android.
This application acts as a hub of live podcast sessions where users can join any room and talk about different topics and share their opinion with several people at once. Users can also create and host their own room without any cost and invite other people to join.
Clubhouse statistics?
The growth of the Clubhouse application has been something to study about. The niche application created in silicon valley quickly reached the international market and gathered a giant pool of users worldwide. Hence analyzing the performance and growth of the application is a must.
An example of a surge in interest in the Clubhouse is that the searches for the "Clubhouse app" have been increased a whopping 2,300% in just 1 year in the United States alone, according to Exploding Topics.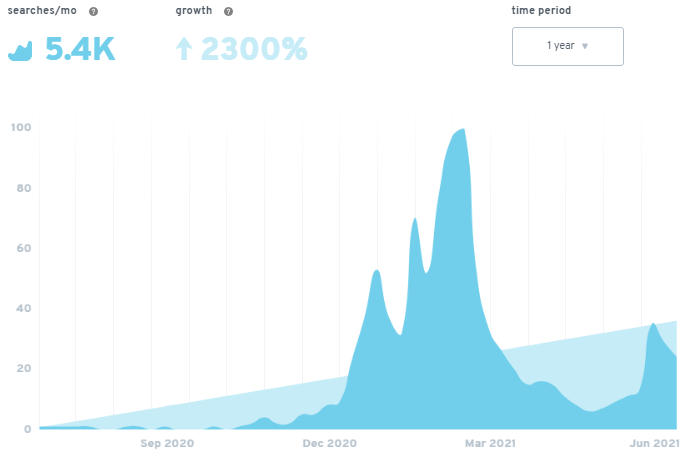 Not only that, if we talk about the downloads, Clubhouse increased its user growth from 2 million in January 2021 to 10 million in February 2021. Which is mighty impressive!
How did it go viral?
When covid 19 hit the entire world, everyone was forced to stay inside and a global lockdown took place. This lead to a constant need for interaction with other people
as all of us were confined in a limited space. It was a problem that Paul Davison and Rohan Seth certainly took advantage of.
Clubhouse allowed people to connect and talk with numerous other users. This essentially gave people something to do and enjoy and eventually leading to a rush of a large userbase.
Furthermore, since Clubhouse is an invite-only application, it creates a persona of being exclusive and forms a fear of missing out on people. Thus, users actively try to get invited by their friends and family members to be a part of the conversation.
Clubhouse features
Clubhouse app is an all-audio social media platform. However, unlike other applications, it has some exciting features that make it stand out from the crowd, thus, allowing it to target an untapped market.
Room chat
The clubhouse features the room chat feature where people can join rooms with other users and be a part of the conversation happening in the room by the option of raising the hand button.
Exclusive entry
As we stated before, the Clubhouse app is an invite-only application. This means that people can only join the application if any of the existing members send an
invite. A single user is allowed to send only 2 to 5 invites but can earn more by engaging in the clubhouse community. You can check the number of invites you have remaining by clicking on the envelope icon on the top of the application.
Schedule events
Even though on Clubhouse, most of the conversation happens spontaneously, a host can also schedule an event in advance if they wish to. Users can plan conversations and set reminders on the app. After the session is scheduled, it will appear in the bulletin section of the application.
Cost and time of making an app like Clubhouse
For developing an app like Clubhouse, there will be a need for good resources and a team of well-versed developers to deliver a smooth and sleek application. The budget of the application depends upon the number of platforms you wish to run it on. The application can take up to $30,000 to $35,000 for a single platform.
However, the price can rise as far as $90,000 if you wish to run it on multiple platforms.
An app like Clubhouse can take from 6 months to 1 year to get ready for delivery in the market
Frequently answered questions (FAQs)
Where can I download the clubhouse application?
You can download Clubhouse from the App Store for the IOS platform and Google Playstore for the Android platform. Currently, the Clubhouse application is available for these two platforms only.
Can everyone join Clubhouse?
As of now, Clubhouse is an invite-only application where the users can only join
when an existing member sends him/her an invitation to join. However, you can still register on the app and reserve your username for the future.
Can I post pictures and videos on Clubhouse?
No, Clubhouse is an audio-based social media platform where users can join and
listen to live conversations happening in several rooms. You can only view the profile pictures of other users.
Why does Clubhouse frequently change its logo?
Technically, the Clubhouse application does not have an official logo. They have broken the norm by constantly changing their app icon in the form of black and white portraits.
So if you want an app like Clubhouse then feel free to get a free consultation from the market leader in the app development space – Appther, anytime:
Mob. +91 9911432288 (Whatsapp)
Email: info@appther.com
[Extra Read: Top Mobile App Development Company for Startups & Enterprises]